How to Set Up a Pinterest Account for Your Business Website
In 2022, creating a Pinterest business account will be crucial to your marketing plan. Whatever your industry, you need Pinterest to expand your consumer base and attract high-quality visitors to your website.
The fundamental actions for opening a business account are:
Please visit Pinterest.com/business/create.
Select your area and language, then type in your company name.
Sync up all of your social media accounts.
Determine whether you wish to run ads on Pinterest.
Update your profile.
Take ownership of your website analytics.
Create and pin as you go.
You can follow the instructions in this article to set up a Pinterest business account. A fresh start for your company's endeavors. We'll talk about every aspect. Continue to read.
What Is a Pinterest Business Account?
On Pinterest, personal and business accounts are practically identical. However, business accounts come with tools that might be useful to marketers and business owners. These consist of elements like Pinterest Analytics and the Pinterest Business Hub. You can also register as a merchant and upload catalogs using a business account.
Personal accounts only let you create static and idea pins, but business accounts let you create all types of pins. You can create boards and interact with other users on the platform using any sort of account. However, viewing the metrics for your pins is not possible with a personal Pinterest account.
The Perks of a Business Pinterest Account
The demographics of each platform might help you determine your strategy. Similar to this, having a Pinterest business account has several advantages. Many Pinterest advantages are available after you create a business account. You'll have a brand-new, improved internet presence.
Here is all the information you require about using Pinterest for business.
Users of Pinterest can create and share pins, create boards, and shop on this visual social media platform.
A larger pool of potential customers and brand exposure are two advantages of using Pinterest for business.
On Pinterest, you may either start from scratch when creating a business account or you can upgrade your personal account.
You lose out if you do not use Pinterest to sell your goods or services. It's a fantastic opportunity to reach customers because more than 87% of Pinterest users have purchased something from the website.
The advantages of Pinterest for businesses
Recognize new patterns
Boost your brand's authority,
Drive visitors to your website.
Access your analytics
Run promotions and commercials for Pins
How to Set up a Pinterest Business Account
Businesses can create pages on Pinterest to use for online image and video promotion of their brands. Companies may manage and update their Pinterest sites to entice customers by using them as an online display or storefront.
It's simple to create a Pinterest account. What you must do is as follows.
Visit the Pinterest Business page as the first step.

You can access Pinterest Business at this URL. The top-right corner contains the "sign up" button.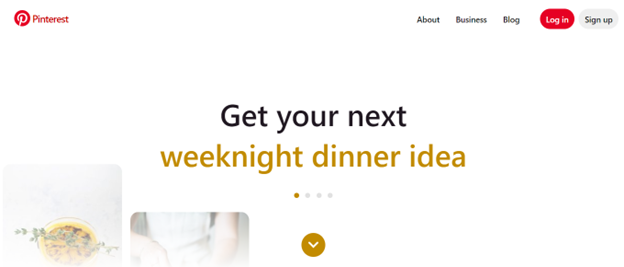 You can click on it to enter your email address when setting up your company account.
To log in whenever you want.
Be sure to include your age.
Click "new account" after that.
A second window will open once you click "Create an account," asking you to type in your company's name. The real username can be changed later to whatever you prefer.
Open an Account
You'll be taken to a website with an application form.
Include your website address and all other required details.
Before establishing an account, make sure to read the terms of service and privacy policy.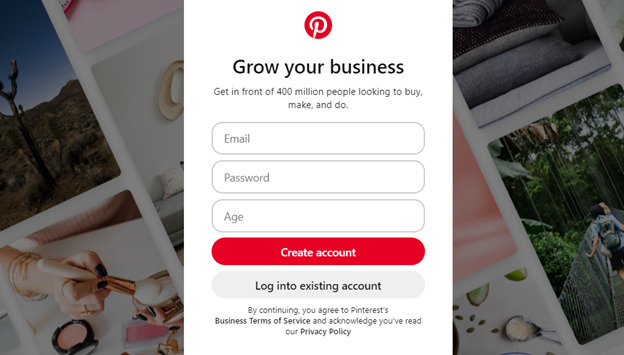 Establish Your Business
A second window will open once you click "Create Account," asking you to input your company name.
The actual username can be changed at a later time to anything you prefer.
Choose "Yes." If you have a website, please include its information. Next, you must choose your nation and your chosen language.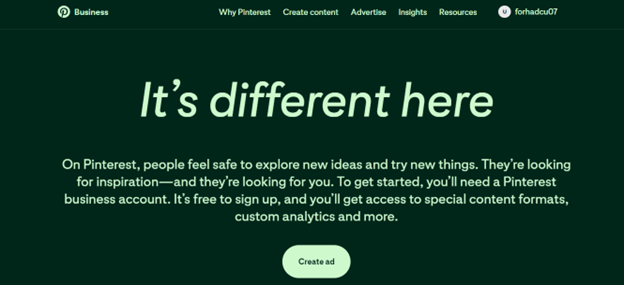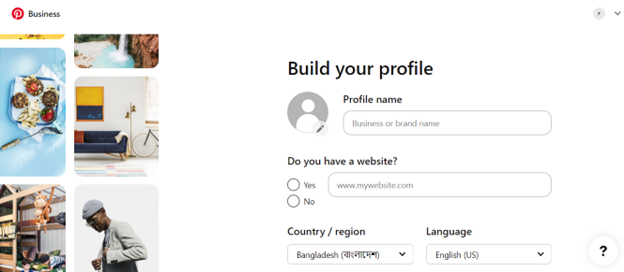 Explain Your Business
You will be asked to enter your specialty, goals, and what you wish to advertise on Pinterest after clicking the "Next" button.
Therefore, the data you supply will aid in giving the consumer a better experience.
Click "Next" once you have finished entering the information.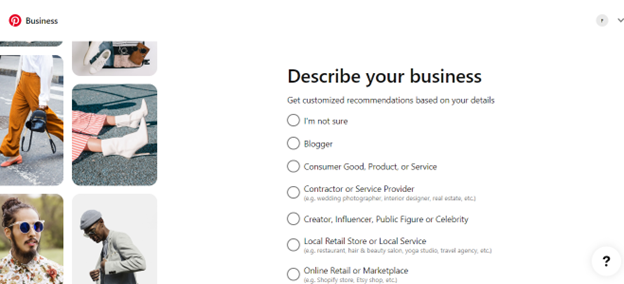 Choose your category.
Now, you must choose at least five categories.
Digital Shift advises choosing categories that are linked to your company's goods and services as well as the interests of your target market.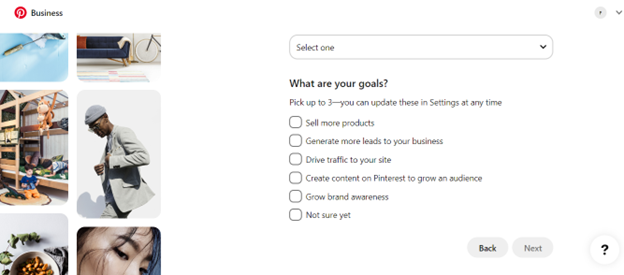 Clickable Pinterest button
Following your completion of category selection, you will be instructed to install the Pinterest browser button. When exploring the internet, the Pinterest button offers a convenient way to bookmark articles or other media. Installing is an option, as is skipping the stage.
Link your other social media accounts.
If you have other social media accounts for your business, such as Instagram or YouTube, you may connect them to Pinterest so that pins from those platforms are credited to your company, and the metrics can be tracked.
Your business page on Pinterest is prepared.
You will be taken to your freshly built Pinterest company page once you install the button or skip the step! Your account has now been created and is prepared for setup.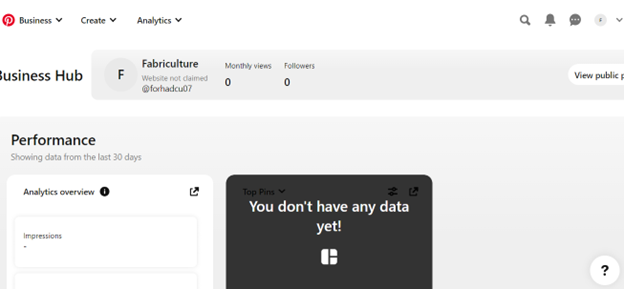 Changing Your Profile on Pinterest
It is now time to modify your page and add the necessary details.
We are beginning with the main profile page.
Click the "Edit profile" button in the top-right corner of the page from your account. You can make changes to information like the company name, cover photo, location, and "About You" in a new window that will open.
Indicate your location and enter your company's details in the "about" box.
Ensure you include a link to your company website so potential customers can go there. After adding all of your information, click "Save Profile" to finish.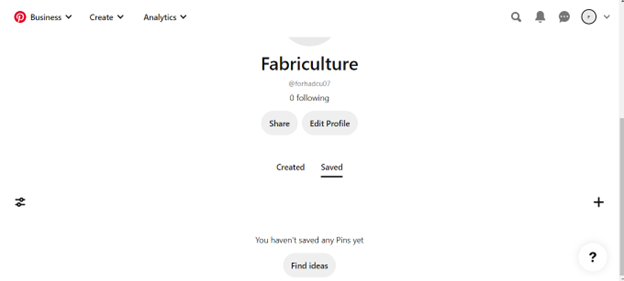 How to Register Your Website on Pinterest for Business
Although it may seem unusual, claiming your website is crucial if you want to maximize the amount of traffic you intend to send back to it from Pinterest.
To assist you in achieving it, we are here.
Register with Pinterest.
It is a must to declare on your website on Pinterest that you have a business account.
Access Settings and select "claim."
Click the "Claim" button in the settings bar after navigating there. Then, you can claim your website by clicking the button in the new window.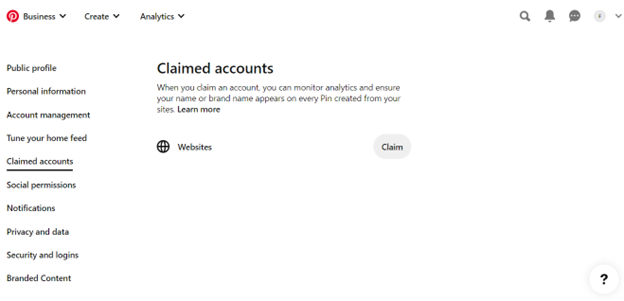 Publish the code.
You will receive a special piece of code from Pinterest. This HTML tag enables you to assert ownership of your website. This code will be "read" by Pinterest to validate your account. To copy this code to your clipboard, click the "copy" button.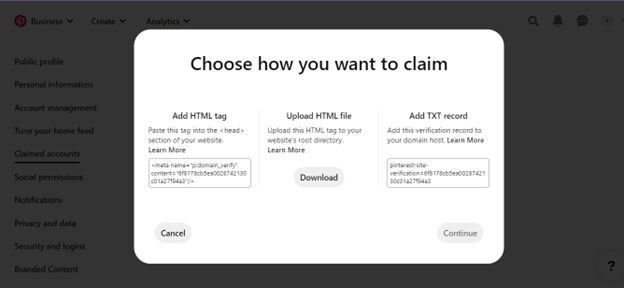 Copy And Paste This HTML On Your Website
Go to your website's backend and paste the code (known as a tag) into the index.html file's head section. Depending on your web server, this process could differ, but it is typically pretty straightforward.
Tap "Verify" on Pinterest.
Return to the Pinterest page and click "Continue" after adding the code. Next, add the URL of your website and select "Verify" in the following window. To locate the unique tag and validate your assertion, Pinterest will read the information on your website.
Your Pinterest Business account has successfully claimed the website.
Is It Possible to Open a Pinterest Business Account for Free?
Yes, having a Pinterest business account is completely free. You only pay for the ads you see.
A small or medium-sized business may expect to pay between $0.10 and $1.50 for each click or engagement, or $2 to $5 per 1,000 impressions, according to WebEx.
Bottom Line
Setting up a Pinterest business account and reaching out to new customers is quite simple. We've gone through how to create a Pinterest business account and some pointers on how to claim your Pinterest account. Here's a rundown of Pinterest business accounts:
Pinterest makes it simple to create business accounts.
Businesses can claim websites and social media profiles to coordinate material on Pinterest.
Pinterest has a variety of ad formats and campaigns to help you with your marketing plan.
Share your Pinterest page with clients and friends, and keep your pins up to date. Pinterest can eventually become a lead generation tool for your company! Engage your audience, and experiment with fresh ideas.